Is your life changing and your home needing to change with you?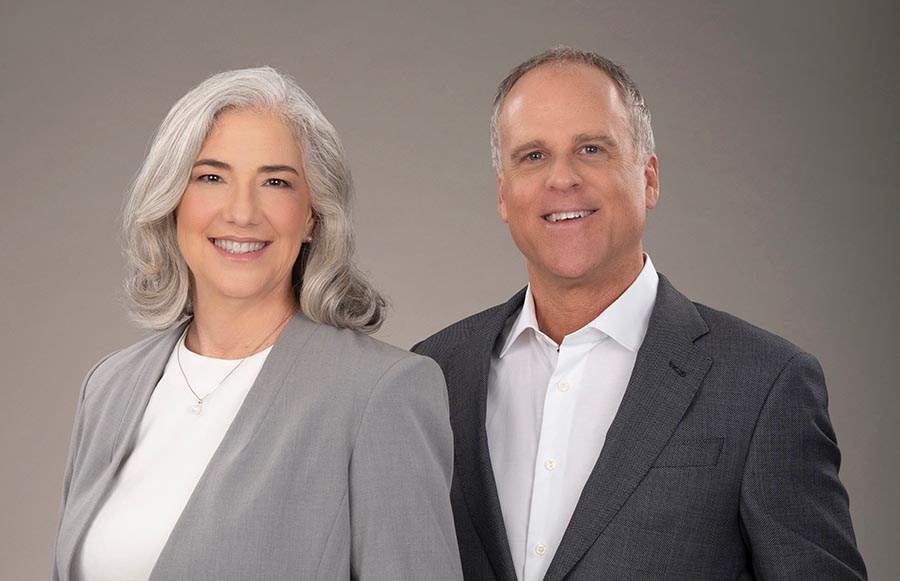 Michael and Laurel James, Your local Real Estate Advisers with 25 years experience.
As you move through life, your home often changes. Let us help guide you through the transition of selling and buying your next life-giving home.
Michael and Laurel James are a husband and wife duo with more than 25 years of real estate experience in Sarasota, Florida. The couple have been living in the area for over 30 years, raising their three sons, establishing deep roots and relationships throughout the community. With Michael's 20+ years of knowledge and expertise in the industry as well as Laurel's background in interior design, the couple bring a unique combination of skills to help buyers and sellers. Laurel's expertise lies within her interior design background which she brings to bear when it comes time to stage homes for selling or advise buyers on space planning. She has written a book called Interiorology – Home Design from Within – which showcases her unique gift of helping others transition in their homes. So if you're ever looking for experienced real estate professionals who are highly knowledgeable about the Sarasota area or need someone with keen interior design skills, look no further than Michael and Laurel James!
We can help you with scaling up or downsizing
Laurel puts her Interior design experience to work for you while she assists you in planning the steps of your transition. This includes home staging and more.
Michael, with his many years of local experience can share his extensive knowledge of Sarasota neighborhoods and his skills of evaluating property, proper pricing strategies, contract knowledge and effective negotiation.
We pride ourselves in taking care of our customers throughout the entire Real Estate process.
"We had an incredible experience working with Laurel and Michael as our real estate agents! From the moment we started the process of buying our house in Sarasota, they were with us every step of the way. Their professionalism, knowledge, and dedication were simply outstanding. We wholeheartedly recommend them to anyone in need of real estate agents who will go the extra mile to ensure your dream home becomes a reality."
– Eric & Patricia B.
"I worked with Michael and his wife Laurel to sell my home on South Lime Ave in Sarasota. Michael and Laurel helped me with everything from deciding what repairs to make prior to listing, picking paint colors and staging, and finally when to list and at what price. Michael and Laurel were communicative and collaborative throughout the process, and always happy to take my call to discuss the sale. I highly recommend!"
– Austin E.
"Working with Michael and Laurel to find our new dream home in a very challenging Sarasota market was the most pleasant real estate experience I have ever had. I had complete confidence in their knowledge of the market, and they were agile enough to get us into the homes we wanted to see promptly. When we decided to buy, they were able to execute with both speed and accuracy, and gave us expert advice allowing us to successfully secure the house we wanted."
– Bruce R.
"From the start Michael helped us narrow down our options and was very helpful when it came to looking at the maps, surveys and the circumstances surrounding each particular property – good and bad. Not only was he knowledgeable… he was fun! That makes the biggest difference. Michael has such an understanding and calming approach when dealing with the contract and the seller. He is what we needed…I would recommend Michael to anyone."
– Seth and Heather K